Bluegrass and more at Wendell's Fullmoon Coffeehouse with the Slik Pickers and the Green Sisters
| | | |
| --- | --- | --- |
| Saturday, January 14 2017, 7:00pm - 11:00pm | by This e-mail address is being protected from spambots. You need JavaScript enabled to view it | Hits : 956 |
$6 - $15
(to benefit Wendell Old Home Day)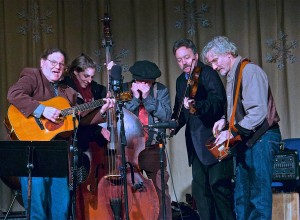 Good music and good food brought the Slik Pickers together - playing endless joyful hours at festivals, their music is influenced by folk, blues and Bluegrass. They typically play in a small circle, weaving rhythms and melodies into soulful songs (with some extra laughter and storytelling thrown in). They play to have a good time. The Slik Pickers are
Dave Slik, W. Boylston: song writer, vocals, flat picking guitar

Brie Green, Hubbardston: Standup bass fiddle, fiddle and vocals

John Cloutier, Sturbridge: Writer, Dobro guitar, bass, vocals

Rob Griffin, Belchertown: fiddle

Myron Becker, Wendell: cross noted mouth harp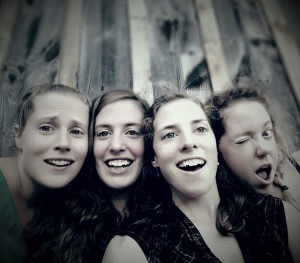 The Green Sisters: Growing up on a farm, the four sisters spent many hours singing to pass the time, and in 2015 they formed The Green Sisters to keep the music and love alive. Their harmonies blend with ease over simple melodies on acoustic instruments (which they often swap amongst themselves). Selections range in genre and age from 1950's barbershop, to folk, Celtic, old-timey, and today's originals. The Green Sisters are
Melody Green, vocals, mandolin, guitar

Betsy Green, vocals, fiddle, banjo

Brie Green, vocals, fiddle, upright bass, guitar

Beck Green, vocals, guitar, fiddle
The Wendell Full Moon Coffeehouse is the longest running Non-Profit venue in New England; where Every Show is for the Benefit of Local Environmental and Service Organizations.
The Wendell Full Moon Coffeehouse is located in Old Town Hall in the center of Wendell, MA., offering a lively night out for music, fun and dance; always in support of a good cause. Come experience the Valley's only Dessert-O-Rama in an affordable family-friendly venue.
Location :

Wendell Town Hall, 6 Center Street


Contact : Wendell Full Moon Coffeehouse, 978-544-5557
Open Mic begins at 7:30. For Open Mic sign-up, directions and further information please visit our website: www.wendellfullmoon.org.
JEvents v1.5.2 Copyright © 2006-2009