Wendell Full Moon Coffeehouse: **Simon White & The Rhythm Inc. at the Wendell Full Moon Coffeehouse**
Saturday 14 December 2019, 07:30pm

$6 - $15 (978) 544-5557
(to benefit the Wendell Full Moon Coffeehouse)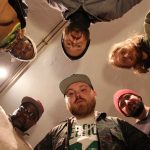 The Wendell Full Moon Coffeehouse is proud to feature one of Wendell's own homegrown talents. Simon White, the creative force behind the Wendell Reggae Fest was born and raised on Wendell love and music. His father was an American-born musician who spent ten years in Jamaica and when Simon turned twenty-one he made his first trip to Kingston where he immersed himself in the local culture and met music producers. That trip opened many cultural doors for Simon, and it also boosted his determination to craft a career from reggae. "There's a message of love and unity and nonviolence that reggae carries with it," Simon says of the influences that emanate through the music of his band Rhythm Incorporated. "Though you might not be a rasta or have the same beliefs, the music carries a vibe for people who are living conscious or spiritual lifestyles." With a diverse group of talented musicians, Simon White and Rhythm Inc offers a fresh sound, poetic lyrics and a danceable beat.
Band members include
Simon White - Vocal/ Guitar
Jamemurrell Stanley - Vocal/ Percussion
Burnie T - Drum Kit
Andrew Atkins - Bass Guitar
Nico D'amico - Rhythm/lead guitar
Jason Metcalf- Keyboards
https://rhythminc.bandcamp.com/
The Wendell Full Moon Coffeehouse is located in Old Town Hall in the center of Wendell, MA., offering a lively night out for music, fun and dance; always in support of a good cause. Come experience the Valley's only Dessert-O-Rama in an affordable family-friendly venue.
Location
Wendell Town Hall
Open Mic begins at 7:30. For Open Mic sign-up, directions and further information please visit our website: www.wendellfullmoon.org